Sustainability, Safety and Innovation
Sustainability, Safety and Innovation
ACTiVE is at the forefront of industry safety developments and ensure we offer the latest and most effective safety features.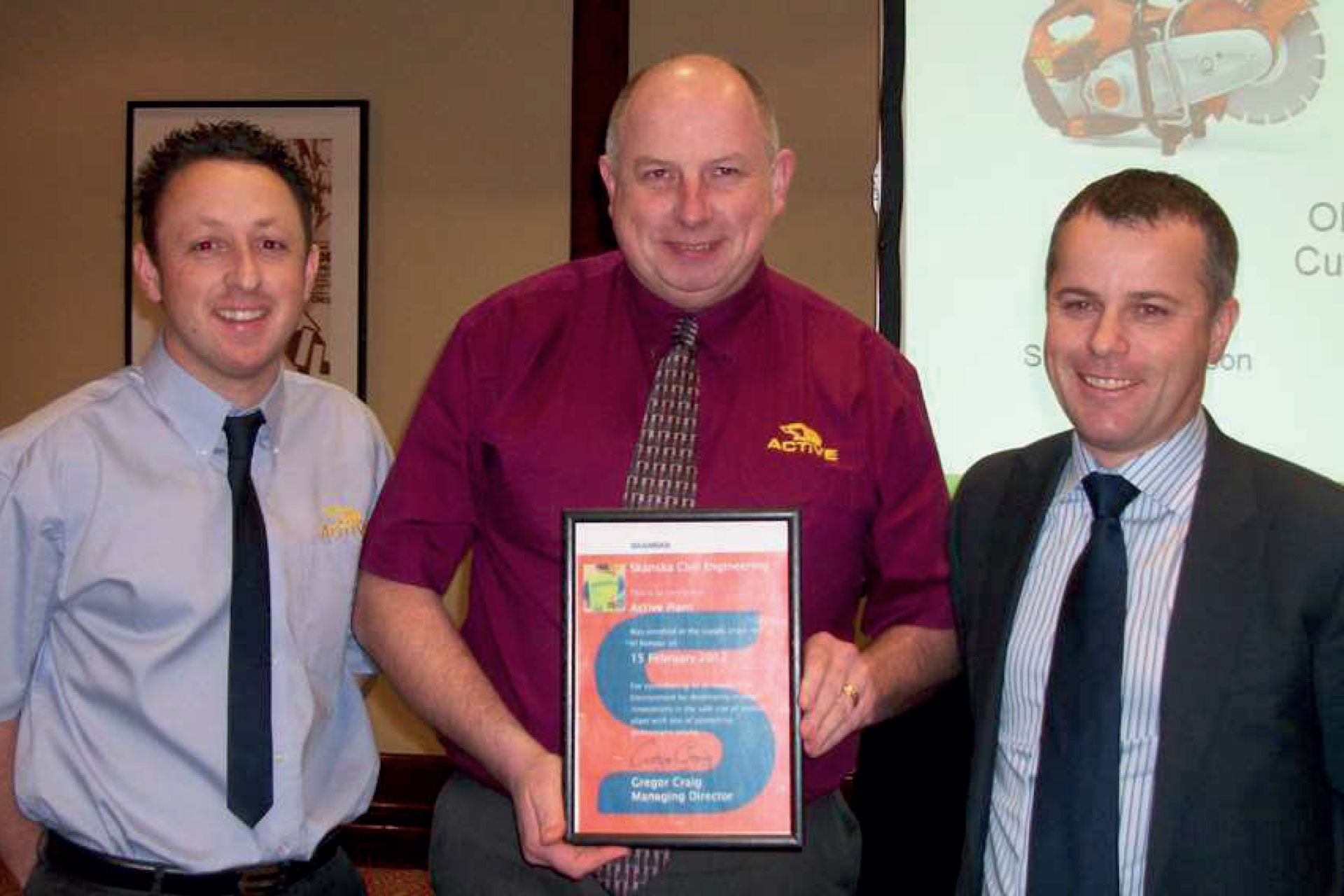 From our award-winning ROCS system, to the latest machine control technologies, you can rely on ACTiVE to offer you the best control and safety features available. We aim not only keep up with the latest safety developments but to help lead and shape innovations within the industry, as demonstrated by the safety awards we have received and by participating in industry forums to dene operational safety guideline; such as the CPA guidelines on staying safe when operating forward tipping dumpers.
Health and Safety Innovation Recognition – Skanska
Active Plant – first member of Civil Engineering's "Roll of Honour"
Active plant is the first supply chain member to receive this new award in recognition of their outstanding contribution to the development of health and safety innovations for Skansa Civil Engineering.
In particular, the development of the award-winning, Remote Operated Cut-out System working alongside Chris Butcher and the coloured seat belt and speed restrictor dumper modifications.
Greg Craig, Mandating Director presented Active Plant's Managing Director, Jerry O'Donovan and Director. John Deeble with their certificate at a recent Zero Accident Forum. Greg said: "Congratulations to Active Plant for all their hard work and efforts in transforming ideas into reality. Over time, it is our intention to recognise other member from the supply chain in the roll of honour is we see similar commitment and enthusiasm in helloing us to achieve an Injury-Free Environment".
On receiving the certificate John Deeble said: "Thank you very much indeed for the award. It came as a pleasant surprise and is something we as a company and individuals are extremely proud of. To receive such an accolade from Skanska in a huge achievement for us."
The Making a Difference sheets below detail Active Plant's innovative modifications to dumpers.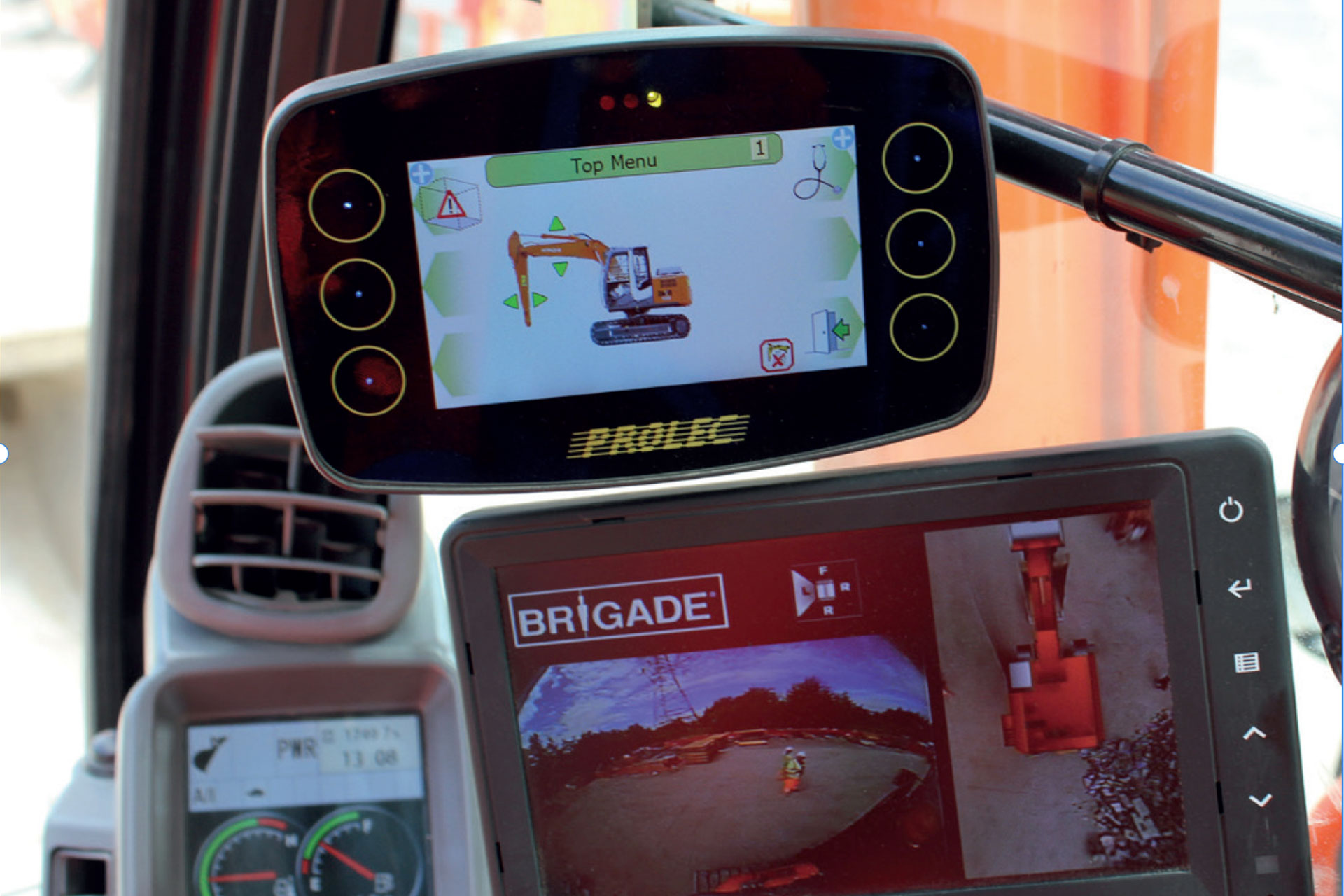 With the iDig system, you can manage distances, depths and desired slopes.
The combination of advanced technologies is unique in the world: no cables, radio communication, simplified installation and solar charging. The user interface has been designed with excavator operators and can be appreciated by all.
The bargraph and LED display guides you in the same field of vision as your bucket and makes the iDig an ideal daily tool for you.
Remotely Operated Cut-off System (ROCS)
The ROCS System has been designed to provide remotely operated emergency stopping of an excavator from a range of up to 100 metres away. It does this wirelessly and it does it instantly.
Here is an example of the datasheet for ROCS
Our innovative system utilises four 195° wide angle cameras, secured to each side of the machine. The images are continually processed and digitally
'stitched' together to provide a seamless 360° 'Birds Eye View' on the LCD monitor installed in the cab. This ensures the operator can see hazards all around the machine, to eliminate the blind spots, resulting in a safe working environment and provide site compliance.
By using equipment that exceeds any other
specification on the market, we are able to offer you the very best system, installed to an ultra-high standard.
The i-am promotes health and safety on construction sites in the United Kingdom by putting the control of plant equipment and plant vehicles safely in the hands of the site manager. It prevents just anybody using equipment, by only allowing a piece of machinery to only be turned on by an activated key card.
From providing access control for plant to construction plant safety, you can be confident knowing that i-am is designed specifically to meet the needs of the construction industry.